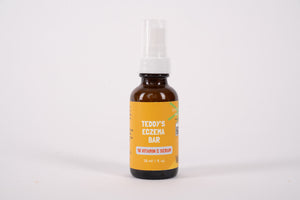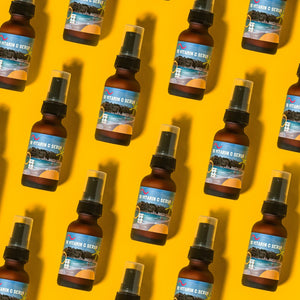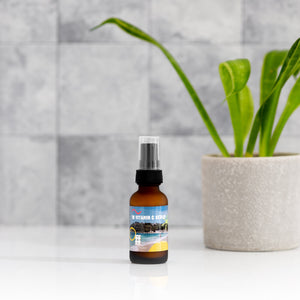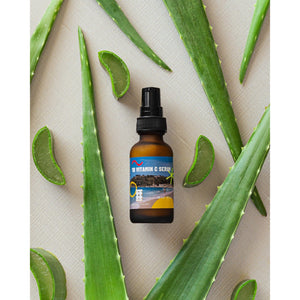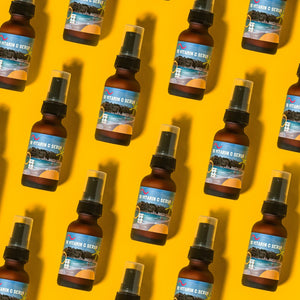 18 Vitamin C Serum
Because of your eczema you have never considered a serum in your skincare routine. They were either too harsh, irritated your skin or caused a flare up.

Say hello to your glow up!💦😚
With our 18 Vitamin C Serum🍊 you get the hydration you always wanted without the skin irritation. Added bonus, our 18 Vitamin C Serum is gentle enough to be used on your dark spots (also known as hyperpigmentation 😉)
Why should you include our 18 Vitamin C Serum in your skin care routine?🤔
Our 18 Vitamin C Serum hydrates and heals eczema prone skin, without the irritation or stinging associated with other vitamin C serums and provides a natural glow. A perfect step after cleansing your skin. 
What is 18 Vitamin C Serum?🍊
It's an antioxidant skin topical used to prevent the formation of free radicals and reduces the appearance of hyperpigmentation.
How often should I use 18 Vitamin C Serum?⏰ 
Dermatologists suggest that you can use a vitamin C serum twice a day - your day and your night routine. We recommend gradually incorporating it into your night routine and then adding it to your day routine if desired results are being achieved.
What are the benefits of 18 Vitamin C Serum? 🥰
Our 18 Vitamin C Serum provides nourishing fruit and vitamins to protect and preserve the appearance of beautiful, vibrant-looking skin. This energy-packed serum is infused with aloe vera, to repair dry, sensitive and eczema prone skin, and both Vitamin C and Vitamin C Ester, which enhance the appearance of skin elasticity. 
Directions:
Clean skin before using. Apply 2-3 pumps to the fingertips and gently massage on face and neck. Follow up with our 21 Lemon Mango Butter to further lock in moisturize.
Ingredients:
Organic Aloe Leaf Juice (Aloe Barbadensis), Glycerin, Rosehip Seed Oil (Rosa Canina), Emulsifying Wax (Cetyl Alcohol, Stearyl Alcohol, Polysorbate 60), Vitamin C Ester (Ascorbyl Palmitate), Vitamin E (Tocopherol), Sunflower Seed Oil (Helianthus Annuus), Phenoxyethanol, Vitamin C (Ascorbic Acid), Organic Cranberry Fruit Extract (Vaccinium Macrocarpon), Organic Red Raspberry Fruit Extract (Rubus Idaeus), Organic Blueberry Fruit Extract (Vaccinium Corymbosum), Organic White Willow Bark Extract (Salix Alba), Organic Alcohol, Organic Neem Seed Oil (Melia Azadirachta), Organic Rosemary Leaf Extract (Rosmarinus Officinalis), Organic Sunflower Seed Oil (Helianthus Annuus), Tetrasodium Glutamate Diacetate